---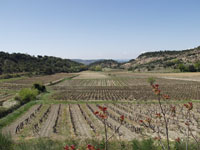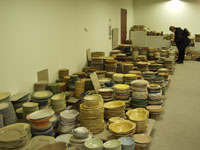 Tuesday found us driving through wine country (well, most of Provence is wine country), and stopping at a pottery factory where we made large purchases. We had trouble getting the stuff into our car (fortunately, we didn't have any of our luggage with us).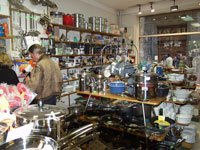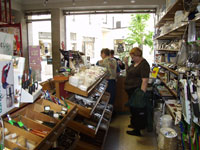 Then back to Avignon, where Elaine and I bought things at the kitchen supply. We then rushed to the mailbox store with the pottery and cookware. We got there shortly before they closed and they were kind enough to stay an hour after closing to deal with our packages. On the other hand, we may well have set their daily record for shipping costs. The hours spent on Easter driving around this part of town really paid off. Elaine was able to find parking within walking distance of the store.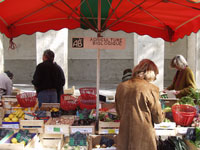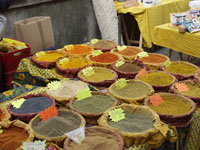 Wednesday, we stopped in the San Remy market for a few minutes and then went for a fabulous lunch in Moustiers. After lunch we drove to Chateau Arnaux and the wonderful hotel La Bonne Etape to wait for the group to arrive. We got together for some champagne (or kir royale) and light snacks. We then retired to the dining room for a nice dinner and then everybody slept.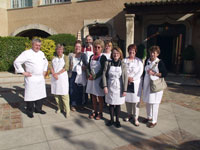 The next morning, we got together with Jany, the fourth generation owner of the hotel and chef of the restaurant. He was one of the nicest men I have ever met, not at all the tyrannical French chef stereotype.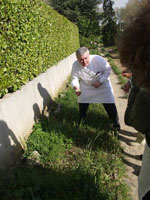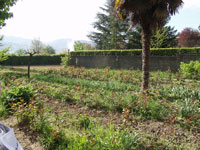 He showed us his garden. It was interesting to note that they don't weed the herb bed, but allow the weeds to shade the herbs and pick around them when they need fresh herbs.

---